February 28, 2021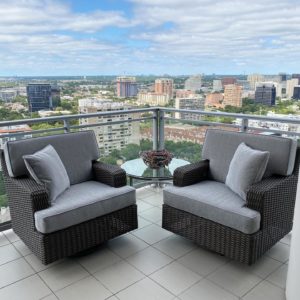 Summer is right around the corner! Hopefully, the pandemic will be under control by then, and you will be able to have guests over to your home. Are you ready to show them world-class hospitality? One of the ways in which you can do so is by having a comfortable outdoor entertainment area. Let's talk about how custom upholstery in Dallas and other styling tips can help you turn your home into the neighborhood's most-loved summertime party spot.
The Value of Custom Upholstery
Have you ever bought cute outdoor furniture only to have its vibrancy and appeal fade in a matter of months? Custom upholstery in Dallas does better. Investing in Sunbrella fabric for your outdoor furniture provides you with a weather-resistant seating area that is less likely to fade after long hours in the sun. Plus, the fabrics are mold and mildew resistant, so you won't have to panic if you accidentally leave your cushions out during a light rain shower.
Don't Forget the Pillows
Of course, comfy furniture is a must, but accent pillows can make the furniture that much more inviting. They are a great way to add extra pops of color to your outdoor space, and guests can arrange them as they please for ultimate comfort. Custom pillows that are designed to complement your upholstery can make your space feel truly glamorous.
Create Some Comfy Shade
Sunbrella fabric is also great for outdoor umbrellas. If you are having a gathering anytime before sundown, some shade umbrellas in your lounge area or close to your pool will be much appreciated. Of course, a pavilion and shade vegetation are also great ways to help your guests find relief from the heat of the midday sun.
Consider Lighting
If you plan to have evening guests, adequate outdoor lighting is a must. Tiki torches and string lights can both help create a relaxing atmosphere. If you don't already have a firepit for your entertainment area, you might want to invest in one. Not only does a fire provide light, but it is also a focal point for yummy summer snacks, such as s'mores and fire-roasted hot dogs.
Make It an Extension of Your Indoor Space
Your outdoor space should complement your home's interior. After all, guests will probably be going between your outdoors and indoors throughout your summertime parties. An interior design expert can help you define your style and help you create a unified look and feel for every area where you plan to entertain guests. For example, they can help you settle on an appealing color scheme for all your spaces and guide you on which decorative accent pieces will help tie your home's décor together.
Is your outdoor space ready for guests? The above tips can help you create the perfect setting for making summertime memories.
Meet the Author
Rita Tayefeh has a passion for helping homeowners and businessowners create welcoming, comfortable spaces. She provides a range of services, including custom upholstery, custom cushions, and interior design. If you would like to consult with her about how you can prepare your home for summertime activities, reach out to her at 214-533-0843.
Comments Off

on Prepare Your Outdoor Entertainment Area for Summer
No Comments
No comments yet.
RSS feed for comments on this post.
Sorry, the comment form is closed at this time.