Media Room Curtains
Media Room Curtains — Practical and Beautiful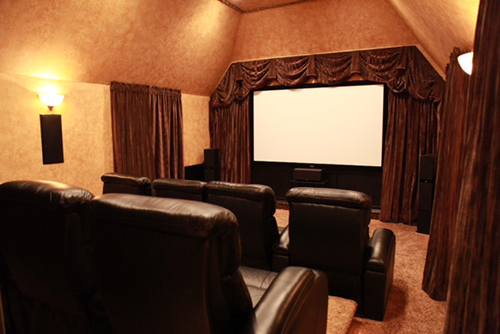 You've put together the perfect media room, but something is missing — curtains. Having the right curtains for your media room can bring the space together, taking it from acceptable to extraordinary. They can transform the atmosphere and make you and your guests feel comfortable and welcome.
Rita understands the power behind a well-thought-out design, which is why she is eager to help you discover your media room's potential with curtains that please the eye and enhance your entertainment experience.
What Are the Benefits of Media Room Curtains?
Media room curtains in Dallas, TX offer some significant benefits. They can: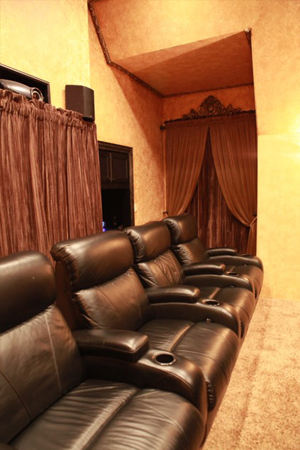 Prevent glare. Whether you want to block out the afternoon sun or put a stop to the ugly glare from the street lamp on the corner, window coverings can shield your entertainment experience from the outside world.
Enhance sound quality. When sound from your speakers hits your windows, the windows may rattle. Hard surfaces also create sound "reflections," which make it difficult for you to enjoy the full flavor of the dialogue and music in a movie. Covering the windows with heavy drapes can therefore improve acoustics and help you get more out of your sound system.
Improved aesthetics. Oftentimes, a room simply does not feel complete without the right window coverings. Curtains can tie other elements of your media room design in Dallas, TX together, creating a unified impression that is both cozy and welcoming. They help you to capture that classic cinematic atmosphere that takes your movie viewing to the next level.
Protect your electronics. Concealing your media electronics behind a locked door can look pleasing, but it may also cause them to overheat. By covering them with curtains, you allow more air to reach them while also maintaining a sleek, clean appearance in the room.
What Are My Options for Media Room Curtains?
Media room curtains will only do their job properly if you choose the right ones. You have quite a few choices in front of you, and Rita will help you settle on the draperies or curtains that fit your style, budget, and media room needs. Here are a few options she may discuss with you: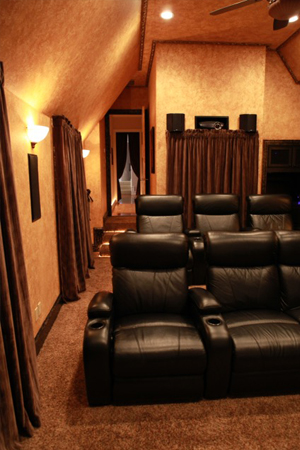 Layering curtains. Having both sheers and draperies on the windows enables you to have greater control over the level of light in the room.
Motorized vs. non-motorized. Motorized window coverings may cost more, but they are extremely convenient and can save you from worrying about untangling cords for draperies. They can also prevent you from having to get up in the middle of the movie to close the curtains.
You'll also need to consider the different types of curtains you might use for the various parts of your media room. After all, choosing draperies for the windows requires that you consider such things as light and sound control, while the curtains that cover the screen may be there simply for aesthetic purposes. You might even choose to cover a whole wall with draperies (especially if it is adjacent to a busy room in the house) to truly make your media room feel like an oasis of entertainment.
If you would like to optimize your media room design with the perfect curtains, please contact Rita today. Movie night may never be the same!