September 26, 2020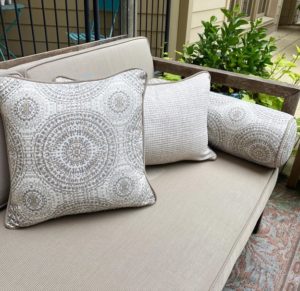 On average, the Dallas area enjoys more than 200 days of sun each year. Plus, our relatively warm climate means that we can take advantage of the great outdoors during virtually any season. Fall is the perfect time to revamp your property's outdoor space! You will face a number of decisions as you strive to create a setting that is a comfortable, beautiful extension of your home. One of those decisions is regarding which type of fabric you will use for your custom cushions and other outdoor upholstery projects. Let's talk about why Sunbrella is the ideal choice.
Sunbrella: Made to Withstand the Elements
Most fabrics fade in the sun because ultraviolet light breaks down chemical bonds in the dyes that color the materials. Sunbrella materials fade much slower than other fabrics because they are solution-dyed. Essentially, this means that they are dyed before the fabric is spun. This process ensures a greater degree of colorfastness than that possessed by fabrics that are dyed after they are spun.
In addition to standing up to the sunlight, Sunbrella fabrics are also made to be water-resistant and stain repellent. (They are not totally waterproof because they are designed to be breathable.) You can maintain their water resistance by periodically treating them with a specialized fabric guard.
Of course, it must be acknowledged that your Sunbrella items will not last forever. If possible, you should store them out of the elements when you are not using them in order to extend their lifespan. With proper care, they may last for up to 10 years, which is about twice as long as the average lifespan of other outdoor fabrics.
Find a Fabric to Suit Your Style
Another advantage of Sunbrella fabrics is the huge variety of colors and patterns that are available. Whether you want a simple, solid color, or you want something that is bold and bright, there is a Sunbrella fabric to suit your style. Working with a design expert is the best way to ensure that both your fabric choice and your final product — whether it is custom cushions, outdoor window coverings, or something else — is a stunning complement for your space.
Uses for Sunbrella
We have already mentioned custom cushions and outdoor window coverings as uses for Sunbrella. However, those are only a few possible ways in which you can take advantage of this remarkable fabric. Other applications include:
Awnings
Indoor upholstery
Umbrellas
Marine upholstery
And more!
Sunbrella is the best type of outdoor upholstery. Would you like to discover how it could breathe new life into your outdoor patio furniture in Dallas? A local design expert can help you to put together your ideal outdoor space.
About the Author
Ever since Rita Tayefeh was a child, she has harbored a passion for sewing and design. In the decades since she began sewing, she has expanded her skills and has become a well-respected expert on outdoor patio design, window treatments, and much more. If you would like to learn how Rita may be able to help you outfit your home with Sunbrella cushions or other custom items, contact her at 214-533-0843.
Comments Off

on Sunbrella: The Best Fabric for Your Outdoor Space
No Comments
No comments yet.
RSS feed for comments on this post.
Sorry, the comment form is closed at this time.