Blackout Curtains
Blackout Curtains Provide Comfort and Convenience
Blackout curtains have the potential to add comfort and security to your home or business. They may even save you money! Rita understands the magnitude of the impact they can have, which is why they are one of the key products that she is proud to provide.
What Are the Benefits of Blackout Curtains?
Some of the benefits that come with blackout curtains in Dallas, TX include: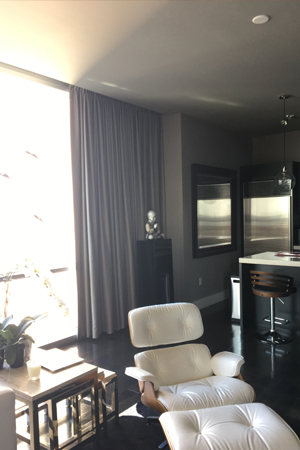 Improved sleep quality. When you are in a dark space, your body produces melatonin, the hormone that helps you fall asleep and stay asleep. Blackout curtains can make your bedroom very dark, enabling you to get high-quality rest even if have a work schedule that requires you to sleep during broad daylight.
Energy efficiency. Did you know that heat loss and heat gain through windows are responsible for roughly 25 to 30 percent of residential heating and cooling use? Blackout curtains can help to keep the heat out of your home and the cool air inside during those sweltering summer days. You're likely to notice a difference in your home's energy bill right away.
Stronger sense of privacy. Your home should be a haven of privacy and security; the last thing you want is for prying eyes to see what you're doing. Opaque blackout curtains put a concealing barrier between you and the outside world.
Better entertainment. Want to get rid of that annoying glare on the TV? Blackout curtains can stop outside light from ruining movie night.
Aesthetics. Blackout curtains can fit seamlessly into your home's décor and contribute to a comfortable, inviting atmosphere.
Protection for furniture. UV rays can fade the fabrics in your home, but blackout curtains absorb those rays and help to keep your furniture and rugs looking brand-new.
What Are My Options for Blackout Curtains?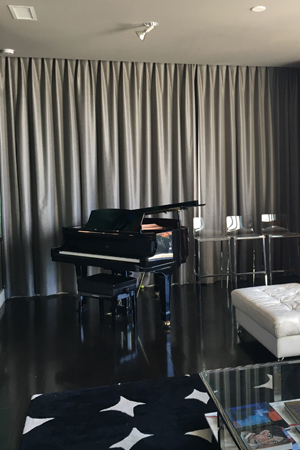 You have quite a few options available for blackout curtains. For example, you could choose drapes, which are made of more than one piece of fabric and offer a heavy, elegant look. For a lighter appearance, you can opt for regular blackout curtains, which are made of one layer of foam-backed fabric that is designed to block out light. Also, don't think that blackout curtains only come in dark colors; they're available in pretty much any hue you could imagine, including white.
You even have the ability to choose double blackout curtains, which come with two layers: a sheer one and one that blocks out light. This type of versatility lets you transition from enjoying the morning light to blocking out the afternoon heat with ease.
Do you love your gadgets? You can opt for motorized blackout curtains, which you are controllable via your smartphone, or you can set the curtains on a timer. That makes them ideal for those days when you leave the house in a hurry and forget to close everything up. Of course, old-school manual blackout curtains are a classic option that never goes out of style.
Rita Can Work With Any Window Size
Head to any home décor store, and you can pick up standard size blackout curtains — but that doesn't do you much good if you have odd-sized windows. Whether you have extravagant floor-to-ceiling windows, round windows, tiny windows, or any other type of window, Rita can work with that. She'll come to your home and make a firsthand evaluation of your space. Then, she can design and create the ideal custom curtains in Dallas, TX.
She's also happy to work with businesses. In fact, she has helped several companies in downtown Dallas to enjoy the manifold benefits of blackout curtains.
If you would like to discover what blackout curtains can do for you, please get in touch with Rita today.