Products & Services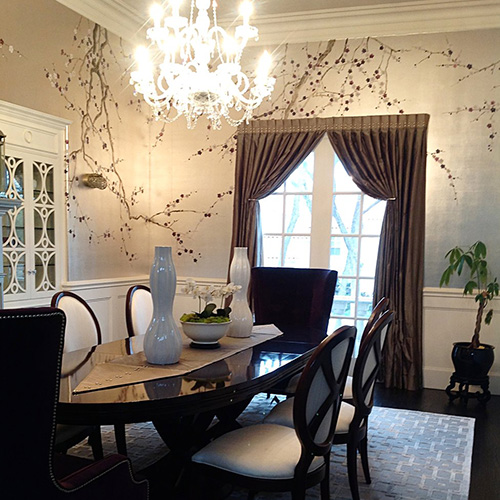 Give Your Space New Sophistication
Every space, whether it's a couple's bedroom or a ten-story office building, has a personality that can flourish with the right design touches. Rita looks forward to helping you discover the ideal look for your space with drapery, curtains, shades, pillows, and other essential elements that are always custom-made and high in quality. Contact her today to schedule an in-house consultation that is absolutely free.
Rita's Custom Drapery offers the following products and services:
Custom Draperies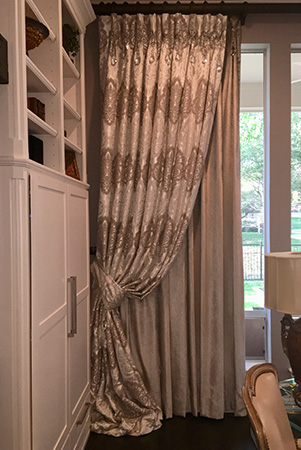 When designing a space in your home or office, it may seem like something's missing. You have the furniture, the lighting fixtures, the painted walls – but what about the windows? Custom-made drapery can tie a room's entire design together, providing extra color, sophistication, and style. Rita will create custom-made drapes that match every aspect of your chosen design, including fabric, texture, color, and more. She can also supply you with all of the necessary hardware so that the overall design is consistent and complementary.
Learn More About Custom Draperies
Curtains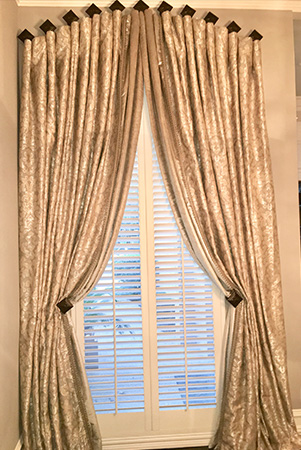 Curtains are crafted from a sheerer and lighter fabric than drapes, allowing the light to stream in while still providing your home with a sense of privacy. They can give your chosen room or building pops of color, exciting patterns, and even practical insulation. Rita would be happy to help you determine the best type of curtain for your unique preferences and design.
Blinds & Shades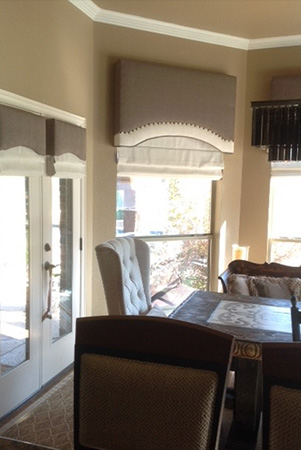 If you're interested in updating current window coverings and would like a different option than curtains and drapes, customized blinds or shades may be the right choice. Blinds consist of several slats, while shades are solid pieces of material. Both of these additions can be completely closed or opened, depending on the client's preference. Rita offers several types, including roller shades, motorized shades, wood/PVC blinds, bamboo shades, Shangri-La shades, and more.
Learn More About Blinds & Shades
Roman Shades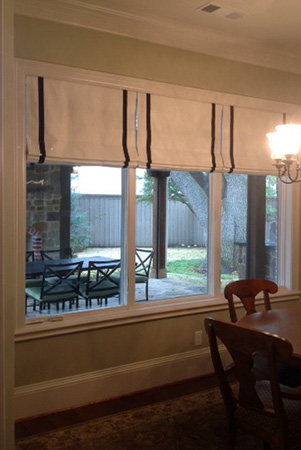 Roman shades stand apart from standard window shades because they are designed to stack evenly. After being fully opened, they will remain visibly neat and complement the rest of your space's polished appearance. Multiple types of Roman shades are available upon request, including looped Roman shades and classic Roman shades. Rita will be happy to help you determine the option that best fits your style and sense of design.
Plantation Shutters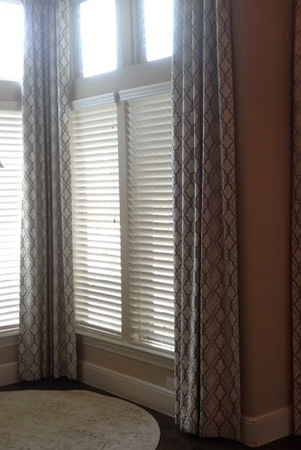 Shutters can be used in a variety of ways, whether a client wants to control the amount of sunlight that's allowed to enter a room or they're interested in creating a strong sense of privacy. No matter what your priorities are, Rita can satisfy them with her highly personalized window shutter designs. Plantation shutters first got their name from the old plantations in the South, and they can be adjusted as needed throughout the day to fit the user's desires.
Learn More About Plantation Shutters
Pillows & Bedding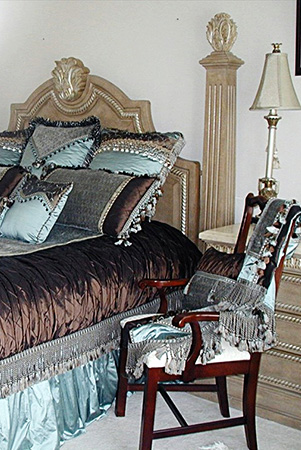 All too often, Rita hears from clients who are unable to find the perfect pillows and/or bedding that matches the rest of their design elements. Thankfully, she offers custom-made projects that can be crafted to any specifications, whether you are interested in a queen-sized bedding set, decorative pillows for a couch, or cushions. Embroidery and animal skin are available upon request.
Learn More About Pillows & Bedding
Interior Design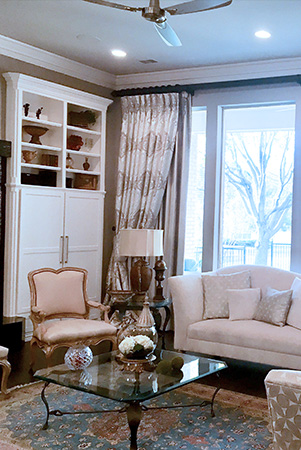 If you are feeling overwhelmed by your home or office's design needs, Rita would be happy to lend you a helping hand. Her interior design skills are genuinely impeccable and well-developed over many years of experience. She will be able to help you tie the entire space together with window coverings, shades, pillows, bedding, and many other important, attractive elements. All of her designs are custom-made and based on the client's personal feedback and preferences. She won't rest until she's exceeded your expectations.