Roller Shades
Roller Shades Offer Elegance and Versatility
Roller shades are one of the most versatile products that Rita offers. They have the potential to complement the décor of any home or business, they're very practical, and they're easy to operate. It is impossible to go wrong with roller shades.
Ideal for Home or Business
Roller shades in Dallas, TX can be cut to practically any size, making them perfect for that kitchen window in your home or for the floor-to-ceiling windows in your downtown office. Some of the benefits that they offer in any setting include: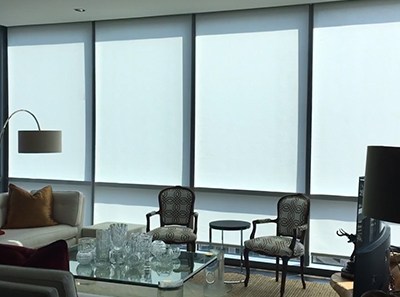 Roller shades offer an understated, clean appearance, which helps them to fit in flawlessly with your modern office décor.
A wide range of color and fabric options. Choose a color that blends smoothly with the space around it, or, if you want a pop of drama, opt for shades that feature a beautiful pattern.
Easy maintenance. Because the design of roller shades is so streamlined, you'll find that cleaning them of dust and other debris is fast and simple.
The rods and other parts that help roller blinds operate are created to provide you with years of seamless operation. Also, many of the available fabrics resist the fading power of harmful UV rays, which means they will retain their gorgeous appearance for a long time.
When you consult with Rita, she can give you more details about the operation, lifespan, and care instructions for the specific type of custom drapery in Dallas, TX that you're considering.
Customize Your Light Levels
Blackout window coverings offer many advantages, such as their ability to protect your valuables from fading and help you save money on your energy bills. They're also great for blocking the glare on the presentation screen in your office's conference room. If you want to take advantage of these perks, talk to Rita about roller shades that block out 99% of incoming light.
On the other hand, maybe you want to allow some natural sunlight in your home or office. You can choose opaque roller shades that let in a custom percentage of light, giving you the ideal level of illumination in your space without sacrificing your privacy.
Easy Operation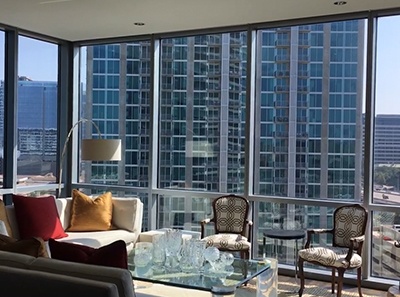 Depending on your budget and personal preferences, you can choose manual or motorized roller shades. Smart, motorized window coverings are ideal if you have extremely tall windows or you crave the convenience of being able to control your shades from anywhere. You may even be able to pre-program your shades so they open and close at convenient times. For example, you can set your bedroom shades to open when it's time for you to wake up in the morning. Or, you can make sure the shades in your office close when the afternoon sun is at its harshest.
If you choose a manual operation, you'll still find that it is a breeze to adjust your roller blinds. Some work on a cord system, while others simply require you to take hold of the shade's bottom bar and move the window covering up or down until it is in the desired position.
Are you ready to learn more about roller shades and how they may be able to benefit your space? Contact Rita today to schedule your complimentary consultation.