July 25, 2021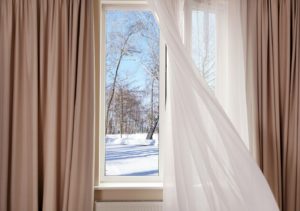 The end of the year will be here before you know it! You may be planning on hosting family and friends for seasonal gatherings in November and December. If so, you want your house to be as inviting as possible. One thing you can do to accomplish that is choose the perfect window treatments in Dallas. Let's discuss some styles and ideas that will help you set the scene for all of your wintertime parties.
Plantation Shutters
Plantation shutters are the ideal complement to almost any home. Warm-colored shutters have a timeless feel that is perfect for classical homes, while white plantation shutters can blend in perfectly with modern or traditional décor.
Curtains
Drapes and curtains in Dallas provide a soft, comfortable feeling in any setting. They are also a versatile window treatment. Here are some ideas for curtains that can help you create a lovely atmosphere in your home this winter:
If your home has a formal dining room, consider investing in elegant drapes. Just keep in mind that if small children will be visiting your home, long window treatments that pool on the floor might pose a tripping hazard.
You can choose colors that match those that are commonly associated with seasonal festivities, such as rich reds. However, you can also opt for more neutral tones, such as cool white or cozy charcoal.
Layering Your Window Treatments
Layering your window treatments can add to the feeling of warmth and coziness in your house. For example, you could hang curtains over your plantation shutters. If you choose to do that, be sure the curtain rod extends far enough from your windows that your curtains can be drawn completely away from your windows to reveal your beautiful shutters. You could also pair blinds with curtains or drapes, or you can layer heavy drapes with sheer curtains. Really, the possibilities for layering are endless!
When to Change Your Window Treatments
Some window treatments, such as blinds and shutters, are semi-permanent and aren't meant to be switched out. However, it is relatively easy to change your curtains and drapes from season to season. You might start shopping for your window treatments in late summer or early autumn so you have time to explore all of your options and consult with a window treatments expert.
You can hang your new curtains shortly before your seasonal festivities, and there is no rule as to how long you should leave them up. You might choose to switch to lighter fabrics in the spring, but some types of curtains and drapes, such as blackout curtains, provide excellent functionality and aesthetics throughout the year.
Are you getting ready to dress up your house for year-end celebrations? New window treatments can help you turn your home into a cozy and welcoming winter haven.
Meet the Window Treatments Expert
Rita Tayefeh has been helping homeowners and businessowners throughout the Dallas area to choose beautiful, functional window treatments for years. If you would like to speak with her about how you can prepare your home to be the perfect spot for seasonal gatherings, contact her at 214-533-0843.
Comments Off

on Use Your Window Treatments to Set the Scene for the Season
No Comments
No comments yet.
RSS feed for comments on this post.
Sorry, the comment form is closed at this time.