May 4, 2021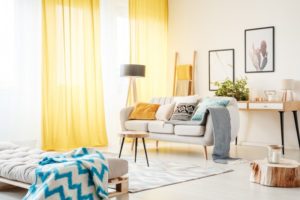 You probably spend a lot of time in your living room. You want it to be an inviting space that looks good and reflects your unique personality. Choosing the right curtains in Dallas can play a big role in helping you achieve that end. Let's talk about five stylish curtain ideas that might inspire you to hit the refresh button on your living room's look and feel.
Bright and Colorful Curtains
Does your living room feature a lot of neutral colors? Adding bright, bold curtains can add a pop of visual interest that contributes a new dimension to the room's aesthetic. Orange, cheerful blue, and yellow are a few possibilities. Just be sure that the color does not clash with the other hues in the room. You can pick a shade that plays off of the existing color scheme and enhances it rather than interferes with it.
Sheer and Breezy Curtains
Sheer curtains are an excellent choice if you love natural light in your home. They perfectly diffuse sunlight, brightening up your space while still providing you with a measure of privacy. Their light and breezy look is great for blending mismatched windows or softening the appearance of dark or dramatic décor.
Rich and Elegant Curtains
Do you love a classic look? Heavy, lined curtains or drapes add a bit of formality to your windows that can really tie your space together. Solid colors work well for this, but you could also choose an elegant damask pattern or something similar. You can even choose a length that pools on the floor a bit for extra drama. Also, the heavy nature of these types of curtains tends to make them excellent for blocking out light and heat, which can help you save on your utility bills.
Layered and Luxurious Curtains
Layering your window coverings adds depth and visual interest to your décor. Placing sheers beneath heavier blackout curtains is a great way to facilitate light control in your room. You could also layer curtains with blinds. When hung properly, the curtains can give the impression that your windows are wider or taller than they really are.
Patterned and Pretty Curtains
Many people shy away from mixing patterns in their décor. That's understandable, but if patterned curtains appeal to you, you can pull off the look by applying a few simple principles. For example, bold patterns tend to work better with subtle patterns, and you should be sure that the patterns have an element—such as color—to tie them together. Stripes are a great pattern option that tends to work well with other patterns.
Are you thinking about updating your living room curtains? Hopefully, the above ideas have provided you with some inspiration!
Meet the Curtains Expert
Rita Tayefeh has been helping homeowners throughout the Dallas area to choose the ideal window coverings for many years. She specializes in creating custom curtains that are functional, beautiful, and designed to stand the test of time. If you would like her advice on how to choose the perfect curtains for your space, reach out to her at 214-533-0843.
Comments Off

on 5 Living Room Curtain Ideas to Refresh Your Home's Look
No Comments
No comments yet.
RSS feed for comments on this post.
Sorry, the comment form is closed at this time.