April 4, 2021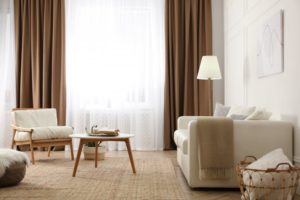 New blinds or custom curtains in Dallas can give a fresh look to your space! If you are thinking about updating your window coverings, you have countless options in front of you. All of your choices might even seem a bit overwhelming. To help you out, we have put together the following list of 10 factors to consider when you are trying to settle on the best option for your unique home.
1. Color
The color of your window coverings should complement the overall aesthetics of your room. Also, keep in mind that bold-colored curtains and fabric blinds may fade more quickly if they are hung in a window that receives a lot of sunlight.
2. Measurements
Choosing the wrong size for your window coverings can dramatically affect their function and appearance. An expert in custom curtains in Richardson can help you decide how to hang your curtains and how to measure for them.
3. Cleaning
Some curtains are machine washable, while others are dry clean only. Considering how much time and effort you are willing to put into keeping your window coverings clean can help you avoid future inconvenience.
4. Material
Blinds can be made out of aluminum, wood, fabric, and other materials. Curtains can be made out of virtually any fabric, from basic synthetic materials to luxurious silk. The material you choose will have a bearing on price, aesthetics, and maintenance.
5. Style
Basic, neutral-colored styles are versatile and can fit in with a wide range of décor tastes. More unique designs, such as curtains with bold patterns or custom vertical blinds, make a louder statement. Looking in magazines or on Pinterest can help you define which styles appeal most to you.
6. Ease of Use
Manual curtains and blinds are fairly easy to use. However, for added convenience, you might want to pick a smart motorized option that you can control from anywhere via an app on your phone.
7. Safety
If you have small children in your home, it is important to keep in mind that long blind cords may pose a strangling hazard. Similarly, it is easy for pets and little humans to trip over long drapes and curtains.
8. Your Room
What is the current style of your room? Does it have high ceilings? Would you like to give the impression that the room is larger than it is? Considering all of these factors can help you choose window coverings that complement rather than clash with your existing décor.
9. Energy Efficiency
Do you have high utility bills? Inefficient window coverings may be partly to blame. Investing in blackout curtains in Richardson or energy-efficient blinds can help to insulate your home and decrease your monthly bills.
10. Budget
Of course, you should shop within your means. Keep in mind, however, that low-cost window coverings tend to offer inferior aesthetics, energy efficiency, and overall function. Spending a little more upfront for high-quality custom curtains or blinds may be the better option.
This article just scratches the surface of how to choose the right curtains or blinds. Partnering with a window coverings specialist can help you narrow down your options and settle on the one that is the perfect fit for your space.
Meet the Expert
Rita Tayefeh is a window coverings and interior design expert who serves the greater Dallas area. She offers custom curtains, blinds, and more. If you would like to speak with her about how you can update the look and function of your home, reach out to her at 214-533-0843.
Comments Off

on Exploring Blind and Curtain Ideas? 10 Things to Consider
No Comments
No comments yet.
RSS feed for comments on this post.
Sorry, the comment form is closed at this time.