March 2, 2021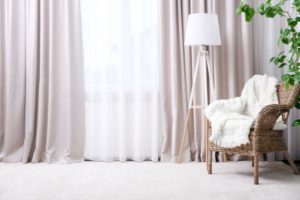 Many people would simply say that curtains should "cover the windows." While that is true to an extent, it is really an oversimplification of how to choose the size of custom curtains in Dallas. Yes, they should cover the windows, but should they extend past the windowsill? If they do, how far should they go beyond the sill? Let's talk about five popular curtain lengths and the situations for which they are appropriate.
Sill Length
Sill length curtains stop about half an inch above the windowsill. They are great if you want to choose a bold color or pattern for your curtains; since they don't take up a lot of space, they are less likely to overwhelm your décor. They're also a good choice for spaces where it would be unsafe or unsanitary for curtains to touch the floor, such as in the bathroom or kitchen.
Apron Length
Apron length curtains extend to about one inch below the window apron. They have dwindled in popularity in recent years, but they are still a practical choice for many spaces. Like sill length curtains, they are good for rooms where furniture or other practical considerations would make it unwise to have the curtains touch the floor.
Floor Length
Floor length curtains might be the most popular curtain length. When they are properly hung, they stop about half an inch above the floor. They can provide the illusion that your ceiling is higher than it is. Plus, since the curtains don't actually touch the floor, you won't have to worry about them collecting dust or debris.
Trouser Length
These are about two inches longer than floor length. As their name implies, they kind of resemble a pair of well-fitting trousers! This length is a great choice if your curtains are made out of a crisp, thick fabric and you will hang them in a space that doesn't get too much foot traffic. Bedrooms and formal dining areas are often well-suited for trouser length curtains.
Puddle Length
Puddle length curtains can be 6 – 10 inches longer than floor length curtains. The way they pool on the floor creates an air of elegance and grandeur. The biggest downside to this style is that the curtains will be more prone to collect dust and crumbs. They work well in rooms with low foot traffic that don't often have small children or pets in them.
Need Help Choosing?
The length of your curtains can have a big impact on the way your space looks and feels. Having a professional's help to design your window treatments in Dallas can ensure that you make wise choices that are both practical and beautiful.
Meet the Expert
Rita Tayefeh is an interior design and window treatments expert who serves homeowners and businessowners throughout the greater Dallas area. If you would like her help to pick out the perfect curtains for your space, she would be pleased to offer her services. Contact her at 214-533-0843 to learn more about how she may be able to assist you.
Comments Off

on 5 Popular Curtain Lengths and When to Choose Them
No Comments
No comments yet.
RSS feed for comments on this post.
Sorry, the comment form is closed at this time.