January 2, 2021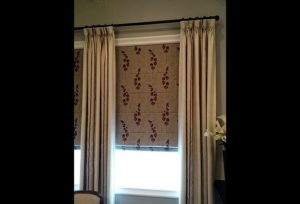 Are you thinking about updating your window treatments in Dallas? There are endless possibilities out there, from simple, minimalist looks to looks that feature a more formal, dramatic flair. Whatever your personal preferences are, there is probably a current trend to match it. Let's talk about some of the hottest styles in window treatments in 2021.
Roman Shades
A Roman shade is a single piece of fabric that is cut to the exact interior dimensions of your window. It has sewn-in slats to support it. Roman shades come in a wide variety of colors and styles, from simple solids to fun patterns. They can also be sheer or opaque. By themselves, they are great for spaces that have a minimalistic aesthetic. For people who prefer more depth in their home décor, Roman shades are easy to layer with other types of window treatments.
Layered Looks
Some people with Roman shades miss the flowy look of curtains, which is why it's trendy to hang curtains over Roman shades. The curtains also add more light control. Of course, there are other ways to layer. For example, it is quite popular to layer solid custom drapery in Dallas over sheer curtains. This gives greater light and privacy control — in addition to looking fabulous.
Light and Bright
In the past, dark and heavy window treatments were the norm. While such options are still suitable for some settings, more and more people are leaning toward lighter colors and fabrics. In 2021, you can expect to see more homes that feature curtains in pastel or neutral shades, as well as lightweight fabrics like linen and cotton.
Curtain Tiebacks
When you are ready to let the light in, you might have a curtain rod or track that you can use to simply slide your window treatments out of the way. However, you also have the option of purchasing tiebacks, which are designed to create a look that's a bit more billowy. It is popular to choose simple tiebacks that are the same color and fabric as the curtains they go with.
Curtain Tracks
Curtain rods can look wonderful, but for many people in 2021, a curtain track is a more desirable option. Tracks are more flexible and may be able to support more weight than rods. They are also quite discreet, which makes them more suited to minimalist décor than curtain rods.
The above-listed window treatment trends can do much to update the look and feel of your home — but they aren't right for everyone. Consulting with an experienced interior design expert can help you dress up your windows in a way that is functional, beautiful, and a fit for your unique tastes.
Meet Rita
Rita Tayefeh is a window treatments expert in the Dallas area. She creates custom shades, drapes, and curtains for her clients. She has a keen eye for detail, and her experience in interior design equips her to help any space reach its aesthetic potential. If you would like to talk with Rita about updating the window treatments in your home or business, get in touch with her at 214-533-0843.
Comments Off

on Discover the Top Window Treatment Trends of 2021
No Comments
No comments yet.
RSS feed for comments on this post.
Sorry, the comment form is closed at this time.