December 15, 2020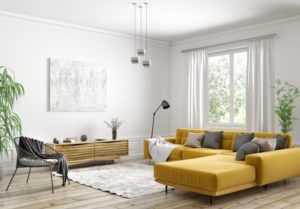 Are you thinking about renovating your home? You may have dozens of ideas for how you want the finished product to look. You have an exciting project ahead of you! However, before you finalize plans for your renovation, you may want to hire an expert on interior design in Dallas. Let's talk about some of the benefits you'll experience if you decide to do so.
You'll Save Money
It might seem counterintuitive to say that hiring an interior designer could save you money. While it is true that interior designers present an added expense, bringing one onto your renovation team can help you avoid expensive mistakes in the design process. They know what missteps are common in home renovations, and they can offer practical suggestions to make the process go as smoothly as possible. Plus, part of a designer's job is to respect your budget. They'll keep an eye on spending throughout the project so your costs do not spiral out of control.
You'll Save Time
Designing your home's interior space will require a lot of time and effort. If you do not have a background in design, it may take even longer. An experienced interior design can quickly evaluate a space, see its true potential, and create a design plan that complements your personal style and goals for the space.
You'll Be Happier with the End Result
Although you probably already know what you want out of your renovation, a designer can help you think of details that might not have occurred to you. For example, they may offer tips on how best to utilize a space, how to arrange for adequate storage, and which lighting to choose to suit the functions of each room. Some of their ideas may be unique to your home and can set it apart from those of your friends, relatives, and neighbors.
You'll Increase Your Home's Value
Interior designers keep a close eye on the real estate market. They know what attracts buyers and which features add the most value to homes. Plus, having their help with the finishing touches of a home, such as a custom drapery in Dallas or other little details, can make your house feel more welcoming to potential buyers. Even if you plan on staying in your home for now, increasing its value boosts your equity and can set you up for future financial gains.
You'll Get Connected with Trustworthy Vendors
Interior design professionals have a network of home improvement vendors whom they trust. Their guidance will spare you from the hassle of comparing countless reviews and proposals while you are planning your renovation project.
Do you have an upcoming home renovation? Hiring an interior designer can make your project a resounding success!
Meet Rita
Rita Tayefeh is an active member of the American Society of Interior designers. She has a keen eye for detail and a passion for helping her clients' visions come to life. To learn more about Rita and her experience, or to schedule your complimentary on-site consultation with her, contact her at 214-533-0843.
Comments Off

on 5 Reasons to Hire an Interior Designer for Your Home Renovation
No Comments
No comments yet.
RSS feed for comments on this post.
Sorry, the comment form is closed at this time.