August 24, 2020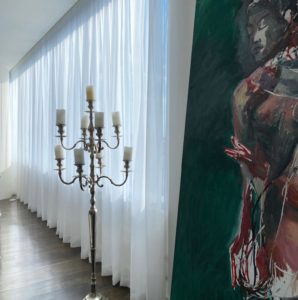 Many people believe that curtains and custom drapes in Dallas are the same thing. Even some professional interior design experts have been known to use the two terms interchangeably. However, while there are many similarities between these two types of window treatments, there are also some distinct differences. Let's discuss what those differences are and how you can decide whether drapes or curtains are better for your home.
The Similarities
Both drapes and custom curtains in Dallas are panels of fabric that serve to cover a window. They come in a wide variety of styles and can have many different header types. Depending on their quality and where you purchase them, both are available at a wide range of price points. Neither type of window treatment is "better" than the other. They can both be of excellent quality and fit in well with many different settings.
The Differences
The key differences between drapes and curtains include:
Fabric type. Curtains can be made out of many fabrics, including cotton, polyester, rayon, and others. Drapes, on the other hand, are usually made out of heavier materials. Velvet, damask, and silk are all common drape materials.
Length. Curtains can be any length, from short curtains for the kitchen window to curtains that hang from the ceiling and pool on the floor. Drapes are usually on the longer side and frequently pool on the floor.
Light blockage. In general, drapes are better than curtains at blocking light out of a room. However, it is possible to purchase blackout curtains that can stop the majority of outside light.
Lining. Drapes usually have a lining that aids in blocking out light and maintaining interior temperatures. Curtains are often (but not always) unlined.
Which Is Right for Your Space?
The key factor in deciding whether curtains or drapes are right for your space is your personal style. If you love classic grandeur, drapes may be the way to go. Also, bear in mind that drapes lend themselves to a more formal atmosphere. They might be an excellent fit for a formal sitting room or dining room.
Curtains, on the other hand, are more versatile and can be used in virtually any setting. Sheer or lacy curtains work well in modern, airy décor spaces, while darker or blackout curtains may work well for your bedroom (drapes are excellent for this purpose as well). You might even be able to layer curtains and drapes over the same window to create a deep, multi-dimensional look.
Do you need help to decide whether curtains or drapes are a better fit for your home? An interior design expert can guide you through the window treatment selection process and ensure you love your final results!
Meet Rita
Rita Tayefeh is an interior design and window treatments specialist who serves homeowners and businessowners throughout the Dallas area. She creates both custom drapes and custom curtains. If you would like to learn more about her services or schedule a complimentary in-home consultation, contact her team at 214-533-0843.
Comments Off

on Curtains vs Drapes — What's the Difference?
No Comments
No comments yet.
RSS feed for comments on this post.
Sorry, the comment form is closed at this time.