July 3, 2020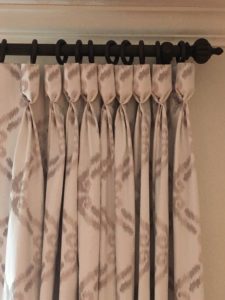 When most people think of different styles of custom drapery in Dallas, they think about different fabrics, patterns, textures, and weights. However, they often do not consider the top of the drapes: the header. There are many different header styles, each with its own unique flair. In this blog post, we'll briefly describe some those styles so you will be in a better position to choose the one that best suits your taste.
Rod Pocket Styles
Rod pocket styles are a classic pick for individuals who want to draw more attention to their drapes than to the hardware that supports them. There are two different styles of rod pocket drapes:
A classic rod pocket drape has a long, narrow pocket along its very top where you insert the drapery pole.
A flange rod pocket has a bit of material that sticks up above the pocket and extends the vertical length of the drapes.
Tab Top Drapes
Tab top drapes have loops of fabric at the top that serve as the space for the drapery rod. They offer a simple and modern look and work well for casual spaces. Back tab drapes are another popular option. They have tabs like their regular counterpart, but the tabs are set lower and are thus concealed by the front of the drape.
You could also choose tie top drapes, which look similar tab top drapes. However, as their name implies, they are tied at the top instead of having simple loops.
Pleat Styles
Tab top and rod pocket styles of custom drapery in Richardson are usually not pleated, which makes them suitable for a wide range of informal, modern settings. However, many homeowners have at least one room in their home that they would like to dress up in a little more grandeur — and pleats can help them do that. There are a number of different pleat styles, including:
Pinch pleat. A single pinch pleat drape looks like it is "pinched" at intervals close to the top, which crates small, narrow rolls of fabric. Single, double, and triple pinch pleats are all elegant choices.
Pencil pleat. Pencil pleat drapes have a continuous row of pencil-width pleats at the top, rather than having them at intervals as is the case with other styles of pleats.
Inverted pleat. These drapes are pinched in the back rather than in the front.
Goblet pleat. Goblet pleat drapes have a series of goblet-shaped portions of fabric along the top.
Tailored pleat. Most pleat styles are pinched below slightly below top of the drape, but with a tailored pleat, the pinch is at the very top, which creates a waterfall effect.
This article has described just some of the multitudinous drapery header styles that are available. Your local interior design expert can help you choose the one that is ideal for your home or office.
Meet Rita
Rita Tayefeh is an experienced interior design and window treatments expert who serves homes and businesses in the greater Dallas area. She offers an endless variety of drapery styles, and she has a keen eye for figuring out which types will complement her clients' spaces. To learn more about her and her services, contact our team at 214-533-0843.
Comments Off

on Great Drapes: Choosing the Right Header Style for Your Space
No Comments
No comments yet.
RSS feed for comments on this post.
Sorry, the comment form is closed at this time.