June 21, 2020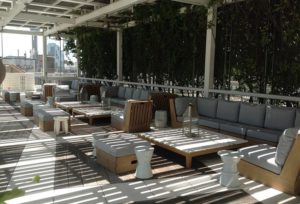 You may have spent considerable time decorating your home's interior spaces. Perhaps you have a comfortable living room, a modern kitchen, an elegant dining room, and a relaxing bedroom. But when was the last time you thought about outdoor living design in Dallas? In this blog post, we'll discuss some reasons why you should make the effort to create a welcoming area outside your home.
Increase Your Home's Value
Outdoor living spaces are becoming an increasingly sought-after feature for potential homebuyers. You may not need to spend tens of thousands of dollars on a brand new deck, an outdoor kitchen, or other major renovations. Something as simple as custom upholstery in Dallas for your outdoor furniture can showcase how beautiful and functional your outdoor living space already is.
Enjoy a Change of Scenery
The COVID-19 crisis has stretched on for longer than most people expected, and it may yet be quite a while before the threat is over. Thus, you are likely spending more time at home than ever before. A comfortable, well-decorated outdoor living space can give you a refreshing change of scenery. If you can see your neighbors' yards from your outdoor space, it might even give you an opportunity for a bit of friendly, safe-distance socializing.
Impress Your Guests
You may have some excellent indoor spaces where you can entertain guests when COVID-19 is no longer a threat, but when the weather is nice, most people love to be able to relax outdoors. Comfortable, good-looking outdoor furniture creates a welcoming environment where your guests can feel at ease. Whether you are hosting a casual barbecue or fancy soiree, they will appreciate your thoughtfully prepared outdoor space.
Improve Your Health
Did you know that indoor air is often more polluted than outdoor air? Dust, pet dander, and other allergens may collect in the tight corners of your home. Plus, spending a lot of time indoors may mean that you do not get enough vitamin D, which is a nutrient that your body produces when you are in the sun. Updating your outdoor living space will help you spend more time reaping the health benefits of fresh air and sunlight.
Enjoy It Year-Round
Dallas gets an average of 234 sunny days per year, so you will have plenty of time to enjoy your updated outdoor living space, a fact that makes it a smart investment. If you have a fire pit, you could even find opportunities to use it year-round. Just be sure to bring your furniture cushions indoors when the forecast calls for rain or other inclement weather.
When was the last time you used your outdoor living space? Whether you have a small patio, a big deck, or a grand backyard, you have every reason to update the outside area of your home.
About the Author
Rita Tayefeh of Rita's Custom Drapery is a design expert who is passionate about helping her clients love their space. Among her many services, she creates custom upholstered cushions for outdoor living spaces. Would you like her help to take your outdoor area to a new level of elegance and comfort? Contact her today at 214-533-0843 to find out more about her services or to schedule a consultation.
Comments Off

on 5 Reasons to Update Your Outdoor Living Space
No Comments
No comments yet.
RSS feed for comments on this post.
Sorry, the comment form is closed at this time.