May 3, 2020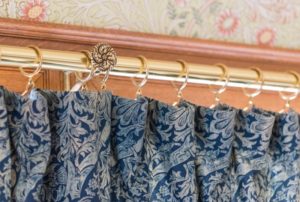 Are you getting ready to update the window treatments in your home? It can be easy to focus so much on your custom drapery in Dallas that you do not give much thought to the hardware that will complement it. But hardware is an essential element in making your windows look their best! In this brief guide, we'll discuss some of the keys to choosing the ideal hardware to go with your fabulous new drapes.
Custom Drapery Deserves Custom Hardware
Many stores and online retailers have a broad selection of hardware for drapes in Dallas. However, mass-produced hardware is usually inadequate for custom drapery because:
Mass-produced hardware may not be strong enough to handle the weight of high-quality draperies. It is more likely to sag.
Telescoping styles have a bump that can interfere with your ability to move your drapes.
You might not be able to find a style that works with the aesthetics you are aiming to achieve in your space.
Ask the person who designs your custom drapes if they also offer hardware; they are much more likely to have what you need than any normal store.
The Hardware Should Suit How You Will Use Your Drapes
Is your custom drapery in Richardson just to enhance your home's aesthetics? Or will you use it to block out light, increase your privacy, or save energy? If the former is the case, you may not need to move your drapery much; in fact, you may not even need a rod that goes over your window. You could use medallions or a short rod on each side of the window that works simply to show off the beauty of your window treatments.
On the other hand, if your drapes suit a more practical purpose, a ringless, cordless track rod might be your best choice. You might even opt for motorized window treatments if you want to optimize their ease of use.
Size and Style Are Important
In most cases, a rod that is between 1 and 2 inches in diameter is strong enough to support custom draperies. However, if you have very high ceilings or tall windows, you might go with a rod that is between 2 and 3 inches thick because it will better complement the grandeur of your space.
Last but certainly not least, your drapery hardware should work well with the room's overall style. Do you have a lot of wood or metal in a room? Do darker colors dominate, or are you going for a lighter aesthetic? Your local custom drapery expert can help you choose between the endless hardware styles that are available.
Choosing the right hardware for your drapes can help your new window treatments live up to their full potential. Using the above tips can help you to do just that.
Meet Rita
Rita Tayefeh has had a passion for sewing and design since she was a child. Now, she puts her passion to work by helping home and business owners in the greater Dallas area to outfit their spaces with custom window treatments, decorative pillows, bedding, and much more. To find out how Rita can help you enhance your space, contact us at 214-533-0843.
Comments Off

on 3 Keys to Choosing the Ideal Hardware for Your Custom Drapery
No Comments
No comments yet.
RSS feed for comments on this post.
Sorry, the comment form is closed at this time.