January 25, 2020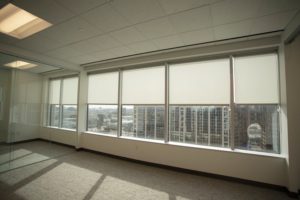 At first, the term "daylight management" might seem strange. Does it refer to managing your business's daily activities? No. It quite literally refers to managing the amount of natural light that is allowed into your space. Why is daylight management so important? How can you implement an effective daylight management strategy? Let's discuss the answers to these important questions.
The Importance of Daylight Management
Some benefits you can reap from daylight management include:
Save money. By managing how much sunlight is allowed into your space, you can reduce energy bills and cut back on electric lighting costs.
Be more productive. Multiple research studies have shown that workplaces with adequate amounts of natural sunlight are more productive. That may be because exposure to sunlight promotes high-quality sleep at night and has a positive effect on mental health.
Be more efficient. Too much daylight can create a glare on computer screens and other monitors. It is important to have a means to reduce the flow of natural light coming into the office when necessary.
Enjoy the view. Letting daylight into your space also means letting the view in. That can make your workplace's aesthetics more appealing.
Implementing a Daylight Management Strategy
Here are a few keys to a successful daylight management strategy:
Choose the right window coverings. The right window treatments in Dallas will be able to block out enough sunlight to insulate your space and provide an adequate amount of darkness. The opacity of your window treatments will depend on the specific purpose of the room you are outfitting. For example, you may need blackout shades in rooms where you watch films or give presentations. Other rooms might benefit from sheerer window treatments.
Efficiently operate your window coverings. Automated, motorized roller shades in Dallas are ideal for most types of workspaces. You can control them via an app. You can even pre-program them to open at close at certain times of the day. The way in which you program them will depend on which directions your windows face, how large your windows are, what time of year it is, and other factors.
Choose the right interior lighting. Installing dimming lights in your office, rather than lights that simply switch on and off, can give you more ways to optimize the lighting in your business.
Pay attention to the office layout. High partition walls in an office can stop daylight from benefiting all of your employees. Similarly, tall furniture placed in front of the windows can also hinder natural light from illuminating your workspace.
Are you managing how sunlight affects your commercial space? If not, now is the time to think about how you can design a daylight management strategy.
About the Author
Rita Tayefeh is an interior design and window treatments expert in Dallas. She is a pro at handling both residential and commercial projects. Throughout the years, she has helped many businesses in our area to properly manage the daylight in their spaces. To learn more about Rita or to schedule a complimentary on-site consultation, contact her team at 214-533-0843.
Comments Off

on The Why and How of Daylight Management in Commercial Spaces
No Comments
No comments yet.
RSS feed for comments on this post.
Sorry, the comment form is closed at this time.