December 15, 2019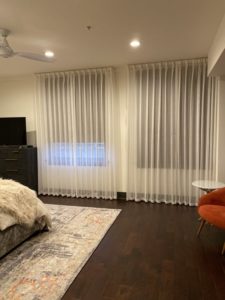 Window treatments can be easy to take for granted, but many people are surprised to learn that there are actually quite a few factors that go into choosing, hanging, and maintaining the ideal blinds, shades, or curtains in Dallas. In fact, some people even view window treatments as being completely overwhelming! Don't worry. You've got an expert to help you out. In this post, Rita Tayefeh, a local interior design expert, gives you some guidance on the basic do's and don'ts of outfitting your windows.
Do Look at Samples
You might be tempted to purchase your window treatments online, but that's a mistake. The screen on your phone, tablet, or computer may not accurately portray the color, texture, or opacity of the treatment you're considering. Instead of taking to the web, consult with a window treatments expert like Rita, who can come to your home and bring lots of samples with them. Then, you'll be able to accurately visualize how a certain blind, shade, or drapery in Dallas will look in your space.
Don't Get Sloppy with Measurements
Taking precise measurements is especially important if you are ordering blinds, shades, or another type of window covering that will fit within the window's frame. If the blinds or shades don't fit correctly, they will look odd and will not be able to adequately block out sunlight. Measure your windows multiple times, and ask for expert help so you can make sure that your numbers are accurate.
Do Get All the Right Gear
If you choose to hang your window treatments yourself, make a list of everything you'll need to get the job done. You'll need hardware to hang the treatments on, a stepladder, a screwdriver, a pencil, and a level, among other things. For the sake of safety, it would be a good idea to have your spouse or a friend available to hand you what you need and make sure you do not fall.
Don't Get Careless When You're Cleaning
In most cases, vacuuming your window treatments or dusting them with a microfiber cloth is all you need for basic cleaning. However, if something spills on your curtains, or it is time for a deep cleaning, it is important that you go about the task carefully. Spot test any cleaning chemicals on an inconspicuous place on your window treatments. If the spot dries without leaving any obvious marks, that's a sign the cleaning solution will be safe to use all over your window treatments.
Do Make Window Treatment a Whole-Home Project
Window treatments are powerful. They can tie a space together and make it feel complete. They also have practical functions, such as the ability to increase your privacy and the potential to decrease your electric bill. It makes sense, then, that you wouldn't just stop at one or two rooms when you are purchasing new window treatments. Rita will be happy to help you choose the ideal curtains, draperies, blinds, or shades for every place in your home or business.
Are you ready to discover what the right window treatments can do for your home? Use the above tips to make sure your window-dressing project goes off without a hitch.
More About Rita
Rita's passion for design began when she was a small child. In the decades since then, she has used her keen eyes and aesthetic talents to help countless homeowners and business owners outfit their windows with the ideal, custom treatments. To learn how Rita can transform your space, contact her at 214-533-0843.
Comments Off

on The Basic Do's and Don'ts of Window Treatments
No Comments
No comments yet.
RSS feed for comments on this post.
Sorry, the comment form is closed at this time.