October 25, 2019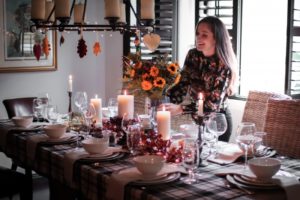 As the year winds down to its final months, you may have a lot on your plate — especially if you plan on extending hospitality to visiting friends and family members. You have to think about what to cook, how to cook it, and how to make your home as welcoming as possible for your guests. While Rita cannot help you with the menu for your seasonal festivities, she can help you make your house feel like a home with little touches like custom curtains in Dallas. Let's discuss how she can enable you to transform your space in time for your next party.
Window Treatments Make the Difference
The perfect window treatments, such as new curtains or custom drapery in Dallas, can make you home more welcoming by:
Adding grandeur to the formal dining room. Many families use their formal dining room just a few times each year, so it is important that you make the most of those occasions. Beautiful, elegant drapes that pool on the floor can add an air of regality to the room. Or, you might opt for classy Roman shades with an elegant pattern.
Getting your guestroom ready for relaxing sleep. Your guestroom should be more than a place where friends and family can crash for a night or two. It should be a relaxing haven that feels like a home away from home for them. Consider investing in blackout curtains, which can block out light pollution and make the room feel cozy. You could layer the blackouts with something sheer so they can enjoy some natural light in the morning while maintaining a level of privacy.
Dressing up your living room. Whether you plan on using your living room for family games, casual chit-chats, or anything else related to your seasonal festivities, it should be a place that fosters warmth and relaxation. Custom window treatments can complement the room's other décor. You can even opt for motorized blackout curtains that are easy to close when the time comes to watch your favorite winter-themed movies.
Other Décor Touches
Rita does more than window treatments. She can outfit your home with other décor touches that turn it into your dream space. For example, you might opt for custom throw pillows for your sofa or for your bed, which can work with the window treatments to create an atmosphere that is more than the sum of its parts. An entire custom bedding set may be just what you need to take your guestroom — or your own bedroom — to the next level. By playing with texture, color, and fabrics, you can create a balanced space that you are proud to show off to anyone — even your demanding mother-in-law.
Is your home ready for the upcoming season? If not, let Rita help you prepare your house to be the perfect setting for all of your year-end parties.
More About Rita
Rita Tayefeh has been helping homeowners and businessowners throughout the greater Dallas area to discover the benefits of custom window treatments for many years. She has a keen eye for detail and a great respect for her client's ideas and preferences. To learn more about her services, contact her today at 214-533-0843.
Comments Off

on Get Your Home Ready for Seasonal Festivities
No Comments
No comments yet.
RSS feed for comments on this post.
Sorry, the comment form is closed at this time.