September 15, 2019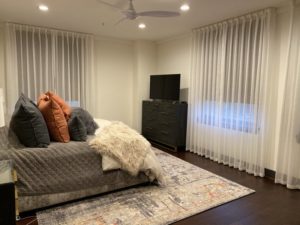 Your bedroom should be your sanctuary, a place where you are free to be yourself and find refreshment in life's simple pleasures. In order for your room to accomplish that purpose, it should be decorated in a way that fits your personality and makes you feel at home. If you crave a light, dreamy bedroom, use the tips in this article to design your ideal space.
Keep Your Walls Bright
White walls have a bad reputation, but that reputation is entirely undeserved. They make the perfect canvas for decorating a room with other colors, textures, and patterns. They also reflect natural light that from outside and create a brighter space. Of course, if white walls are not to your taste, you can pick a different color. An icy blue, minty green, or other muted color can work just as well in your dreamy décor scheme.
Throw in Some Accent Colors
A light, dreamy bedroom has a lot of neutral tones, particularly white. To make sure the space doesn't become monotonous, throw in a few pops of bright color. Blue is an excellent choice because it provides a sense of calm and serenity. Warm colors, like orange or red, can also work well. Or, you might opt for some fresh flowers on a bedside table to add a gorgeous touch of vibrance.
Let There Be Light
Natural light is a key to creating a dreamy, airy feel in any space. Avoid dark window coverings, and don't fill the room with a lot of dark furniture that will eat up the light from outside. It's also a good idea to choose lamps and light fixtures that will provide plenty of illumination even when the sun goes down. Some people even choose to place string lights around their windows to create a peaceful oasis of light at any hour of the day.
Use a Large Mirror
A big mirror will reflect light and make your bedroom appear bigger and more open. Such a mirror can become a lovely focal point if it is placed above the headboard. Whatever you do with your mirror, do not place it directly in front of a window or anyplace where it might create an awkward glare.
Choose the Right Window Coverings
One of the previous tips in this article mentioned that you should not use dark window coverings in your airy bedroom. What, then, should you use? Sheer custom curtains in Dallas are an excellent way to let soft light into the room and make the space feel complete. However, you also need to consider your privacy. Layer the sheers with blackout curtains in a light color; the heavier drapery will serve a practical purpose while adding a touch of drama to your space. Or, you could place the sheers over simple blackout roller shades.
Are you looking to lighten up your bedroom? Use the above tips to turn your space into a dreamy oasis!
About the Author
Rita Tayefeh is a home décor expert in the Dallas area. She provides custom drapery in Dallas, bedding, pillows, and so much more. If you would like her help to create a light, dreamy bedroom, contact her at 214-533-0843 to schedule your complimentary in-home consultation. 
Comments Off

on 5 Tips for Creating a Light and Dreamy Bedroom
No Comments
No comments yet.
RSS feed for comments on this post.
Sorry, the comment form is closed at this time.