September 1, 2019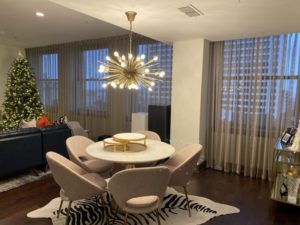 Maybe you remember the sheer curtains at your grandma's house and think that this type of window décor is traditional — some people even perceive it as being outdated. However, that is far from the truth! Sheer custom curtains in Dallas are back in style! Let's talk about some of their advantages and how you can incorporate them into your modern décor.
Advantages of Sheers
Some of the biggest advantages of sheers include:
They let soft light into a room and can create a dreamy, airy atmosphere.
Used wall to wall, they can create a tasteful backdrop for any room.
They are great for layering with other types of window treatments.
Solid sheers can provide a lovely contrast in a room that is full of bold patterns and textures.
They are a clever way to unify mismatched windows.
They aren't just for windows; you can use them in an open-concept home as a way to divide the space without making it feel closed off.
Tips for Using Sheers
Here are a few tips to help you use sheer custom drapery in Dallas to its greatest advantage:
Make Sure the Panels are Long Enough
Sheers usually look best when they are long. Don't be afraid to let them pool on the ground a little, especially if you want a look that has a touch of rustic charm. A home décor expert who specializes in window treatments can help you decide the exact right length for your sheer curtains.
Experiment with Color
Most sheers are white or off-white, but that doesn't mean you should be afraid to try out other colors. For example, some people alternate solid and patterned sheers to create a striped effect. Others use several sheers of different colors (if you choose to do this, make sure the colors you choose complement each other and the overall look of the room).
Pick the Right Hardware
Sheers weigh next to nothing, so you can choose to support them with a light or heavy rod. The type you choose will depend on the space. For example, a chic and airy look is best supported by light hardware, whereas dramatic elegance might work well with a heavier or wood curtain rod.
Layer as Necessary
Sheers are lovely, but they don't provide much privacy. If you choose to use them in your bedroom, layer them with blinds or blackout curtains so you can enjoy both the airy lightness of sheers and the protective power of heavier window coverings.
Sheers aren't outdated. In fact, they're a timeless look that can fit well in any modern home. Use the above tips to incorporate them into your space.
About the Author
Rita Tayefeh is a home décor and window treatment expert who helps homeowners and businessowners in the Dallas area to make the most of their space. She provides a wide range of custom window coverings, and she provides guidance on how to make those window coverings work well in their surroundings. To learn more about Rita and her services, contact her at 214-533-0843.
Comments Off

on Sheer Curtains Are Back! How to Make them Work with Modern Décor
No Comments
No comments yet.
RSS feed for comments on this post.
Sorry, the comment form is closed at this time.