July 25, 2019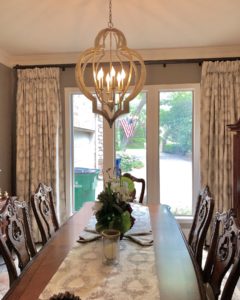 Your window treatments play a significant role in determining the overall look and feel of a room. However, they may not be enough by themselves to create the atmosphere you're aiming for. That is why you must view your space as a whole and bring it together with accessories that complement your custom drapery, curtains, or blinds. Let's discuss a few tips that will help you choose the ideal accessories for your home or office.
Consider Going Matchy-Matchy
You may adore your custom curtains in Dallas, and you might wish to use that same fabric for throw pillows or a table runner in the room. Your local interior décor expert, Rita, can make that happen! It can be a gorgeous way to tie your room together. However, be aware of the danger of going overboard. Having too much of one thing can be overwhelming to the eyes. Rita will help you make wise decisions that will give your room a balanced, unified look.
Play with Pillows and Other Accents
Throw pillows are one of those little accessories that can make a big difference in the way a room looks and feels. Rita can even help you design a few sets of pillows, both of which complement your window treatments in different ways. For example, one set of pillows might tie in with the color of the window treatments, whereas another might draw more attention to their patterns. You can switch out the pillows according to your mood or the season for a refreshing change. Decorative pillows work well on practically any sofa, chair, or bed.
Of course, pillows are not the only fabric accents that can add versatility and dimension to a room. The same principles can be applied to the table runner in your dining room or the comforter in your master bedroom. The possibilities are endless!
Use Textures for Variety
The texture of the accessories in a room are important. If everything is the same texture — for example, if everything is shiny and smooth — the space may feel lifeless and dull, no matter how stunning your window treatments are. Therefore, if your curtains have a satiny finish, you might complement them with a few matte finishes in the room. You could even ask Rita about layering your window treatments themselves to create a richer textural landscape.
Don't Forget About Lighting and Furniture
The lighting and furniture in the room are, of course, huge factors in its overall feel. Rita always takes such things into account when she is designing accessories. During your complimentary in-home consultation, she'll consider how the lighting in the room showcases certain fabrics, and she'll use your furniture and other existing décor elements as a major consideration in her design process. No detail escapes her highly trained, highly experienced eye.
Are the accessories in your space complementing your amazing window treatments? If not, call in an expert to help you transform your home or office.
More About Rita
Rita Tayefeh's passion for design began when she was a child. Since then, she has continually honed her skills and has used them to help countless homeowners and businessowners throughout the Dallas area to create beautiful, functional spaces. If you would like to discover how she can help your home or office reach its true potential, contact her today at 214-533-0843.
Comments Off

on Show Off Your Style with Custom Drapery and Custom Accessories
No Comments
No comments yet.
RSS feed for comments on this post.
Sorry, the comment form is closed at this time.